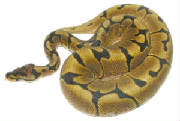 Scientific Name: Python regius
Common Name: Ball Python / Royal Python
Morph: Spider
Genetics: Color / Pattern Mutation - Dominant (Nerd)
Description:
The Spider Ball Python is a real neat looking snake! Its absolutely amazing.The Spider Ball Python mutation is both a color and a pattern mutation. The base color of a Spider Ball Python is a yellow and gold color with a greenish tint. They have an extremely reduced pattern. The dark dorsal markings are extremely thin and aberrant and are a black/brown color. The lateral pattern is almost pied with some yellow and gold, orange and gray flecks in the white colored area. The iris on the Spider Ball Python is a green/gold color and the head pattern is extremely variable. The crosses with this mutation are just endless and have produced some killer morphs.
Information:
This mutation was produced and proven dominant in 1999 by Nerd.