Scientific Name: Python regius
Common Name: Ball Python
Morph: Piebald
Genetics: Simple Recessive
Description:
Piebald Ball Pythons very beautiful and visually stunning snakes. Piebald Ball Pythons vary tremendously. The amount of white that a Piebald Ball Python displays appears to be a random factor at this point. For investment purposes a low white Pied Ball Python is just as good as a high white Pied Ball due to the fact that breeding two high white piebald ball pythons does not guarantee that the offspring will be high white as well. Low white piebald adults have produced high white offspring so its a decision the investor has to make. For us, all Pied Ball's are absolutely stunning!
Information:
Piebald Ball Pythons were first produced by Pete Kahl in 1997.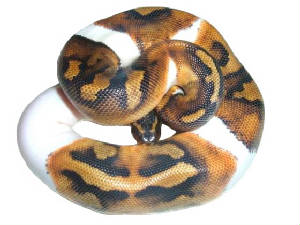 Please click picture to view more photos of Piebald Ball Pythons.